Get Help from the Library
Library Login Help
Currently enrolled Grossmont students can access the library's online material off campus. Fill in your firstname.lastname and 6-digit date of birth.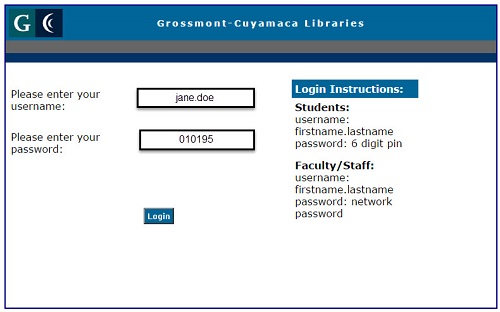 Still having problems?
Do you have numbers at the end of your Canvas login?

Include the numbers after your name.

Do you have a long name? Stop after the 20th character.


Example: Jennifer Williams-Smith would login as jennifer.williams-sm

Is your login longer than 20 characters if you include the numbers after your name?

Stop after the 20th character.
Example: Jonathan Anderson's Canvas login is jonathan.anderson12345 but to access the library, it will be jonathan.anderson123

Did you change your Self-Service or Canvas password?

Still use your 6-digit birthday. (Not 8-digit birthday)
Example: If your birthday is January 1, 2002, enter 010102

Did you change your Grossmont College Microsoft password (Word, Excel, Outlook)?

If so, use this new password.

If you still have problems, try resetting your password.


All students have a Grossmont College Microsoft account. Resetting the password will reset your library password as well.

Having issues just with the Kanopy database?
Still having problems?

Email the GC help desk at g-helpdesk@gcccd.edu or call (619) 644-7742 and leave a message. Your call will be returned as soon as possible.
The library offers a variety of instruction for students. Become a better searcher and use resources efficiently. Visit our Library Instruction page for more information.
Getting Started
Need help with some research basics? Watch our short video on getting started with library research.

Other Research Help
Kanopy Login Help
Watch this short 1-min video for help logging into Kanopy.
Research Help
For general questions and research help

24/7 chat

(619) 644 - 7361