The annual Fall Reading Series presents a season of events celebrating literature, showcasing award-winning authors, and honoring the inspiration to write. Events are sponsored by the English Department and Creative Writing Program of Grossmont College, as well as a variety of other campus agencies and programs.
---
Thursday, September 20
Banned Books/Banned Lives
2-3:15pm, Griffin Gate (Bldg 60)
Honoring National Banned Books Week, this year's Celebration of Banned Books reading moves to daytime and will spotlight novelist Matt de la Pena, author of Mexican White Boy (2008) and We Were Here (2009). His first novel published in 2005, Ball Don't Lie, was adapted in 2008 for film (starring Ludacris, Nick Canno, and Emilie de Ravin). Matt de la Pena is the first Latino to win the Newberry Prize in literature. For more information about this year's Banned Books/Banned Lives reading, contact English instructor Alan Traylor: alan.traylor@gcccd.edu.
---
Tuesday, October 25
Lester Bangs Memorial Reading: "Ticket To Write"
7-9pm, Room 26-220
film screening (runtime: 100 m.) and discussion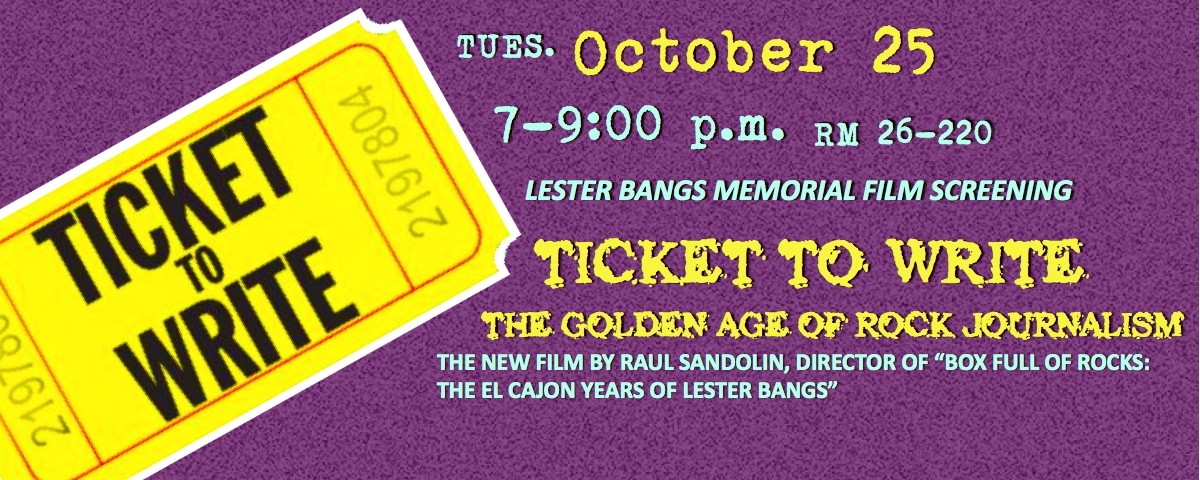 The 8th Annual Lester Bangs Memorial Reading will feature the launch of the new documentary film by Grossmont College English instructor, Raul Sandelin, Ticket to Write: The Golden Age of Rock Music Journalism. Sandelin's film explores the origins and heyday of rock music journalism, 1966-1981, during which legendary music magazines like Rolling Stone and Creem were first published and rock writers like Lester Bangs, Hunter S. Thompson, Dave Marsh, and Jaan Uhelszki found notoriety. This film interviews over twenty-five period journalists.
A Grossmont College alumnus (1966-1968), Leslie Conway "Lester" Bangs has come to be recognized as "America's Greatest Rock Critic." Considered one of the most influential voices in rock criticism, music critic Bangs is credited for coining the terms "punk" and "heavy metal." The annual memorial reading celebrates his subversive spirit, his creativity, and his ability to continue to influence generations of writers.
---
Thursday, November 17
poet Denise Benavides, launch party & reading
7-8:30pm, Griffin Gate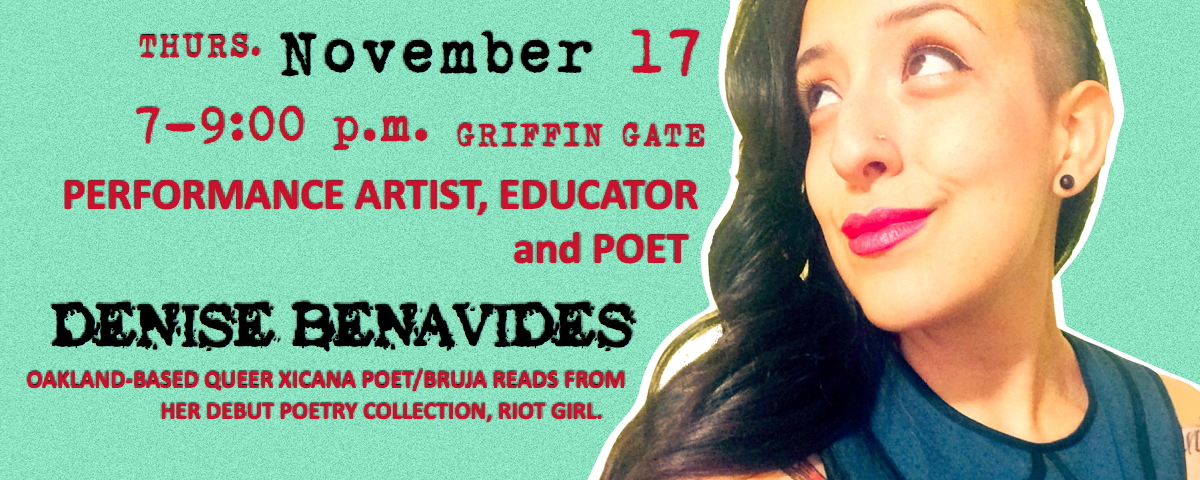 Performance artist, educator, and queer Xicana poet Denise Benavides is a graduate of Grossmont Creative Writing Program. She received her MFA in Writing from Mills College in Oakland, California. Her book, Riot Girl, is newly released from Korima Press.
---
Monday, December 5
New Voices: A Student Reading
7-8:30pm, Griffin Gate
Standout students from the English Department's Creative Writing Program take center stage and share original works of fiction, poetry, and creative nonfiction. Their stories are our stories—come be part of the magic!