Equity and Anti-Racism Resources
Anti-Racism & Equity Resources
This page is intended to serve as a resource for the Grossmont Community to deepen our understanding of equity and anti-racism. These resources can not only help us to fulfill our College's Mission, Vision, and Values, but also meet the Chancellor's Office Call to Action, the goals and recommendations set out in the Academic Senate for California Community College's position paper on Antiracism in Education in California Community Colleges, and our own Academic and Classified Senate resolutions to become an anti-racist institution.
Several of the resources below are provided through institutions or organizations that are external to Grossmont, but work closely with the California Community College system. These are meant to supplement the ongoing work happening at the college.
For more resources and workshops provided here at Grossmont, please visit our Virtual Grossmont Learning Center canvas shell to get connected!
A Framework for Becoming Antiracist
Dr. Andrew Ibrahim created the graphic below, modeled after a COVID public health graphic, while learning more about the journey to becoming antiracist.
(Ibrahim, n.d.)
Everyone is at a different point in their journey, and this journey is not necessarily linear.
Some questions for self-reflection:
Which statements resonate most with where you're at on your journey?
Which zone do most of those statements lie within?
Are you where you'd like to be?
What support do you need on your journey?
USC's Race & Equity Center
As a member college, all Grossmont employees have access to Equity Connect, USC Race & Equity Center's portal for Racial Equity Resources. All you need to sign up is your GCCCD email address.
To register, please copy and paste the following URL into your web browser: https://equityconnect.usc.edu/register/e5529310-5ff3-4546-9ad1-d94d2c12d6f1
Already registered? Please copy and paste the following URL into your web browser: https://equityconnect.usc.edu/login
For detailed instructions on how to register click here.
You can also subscribe to USC's Race & Equity Center's YouTube Channel and view some of their past webinars including: White People Talking to White People About Racism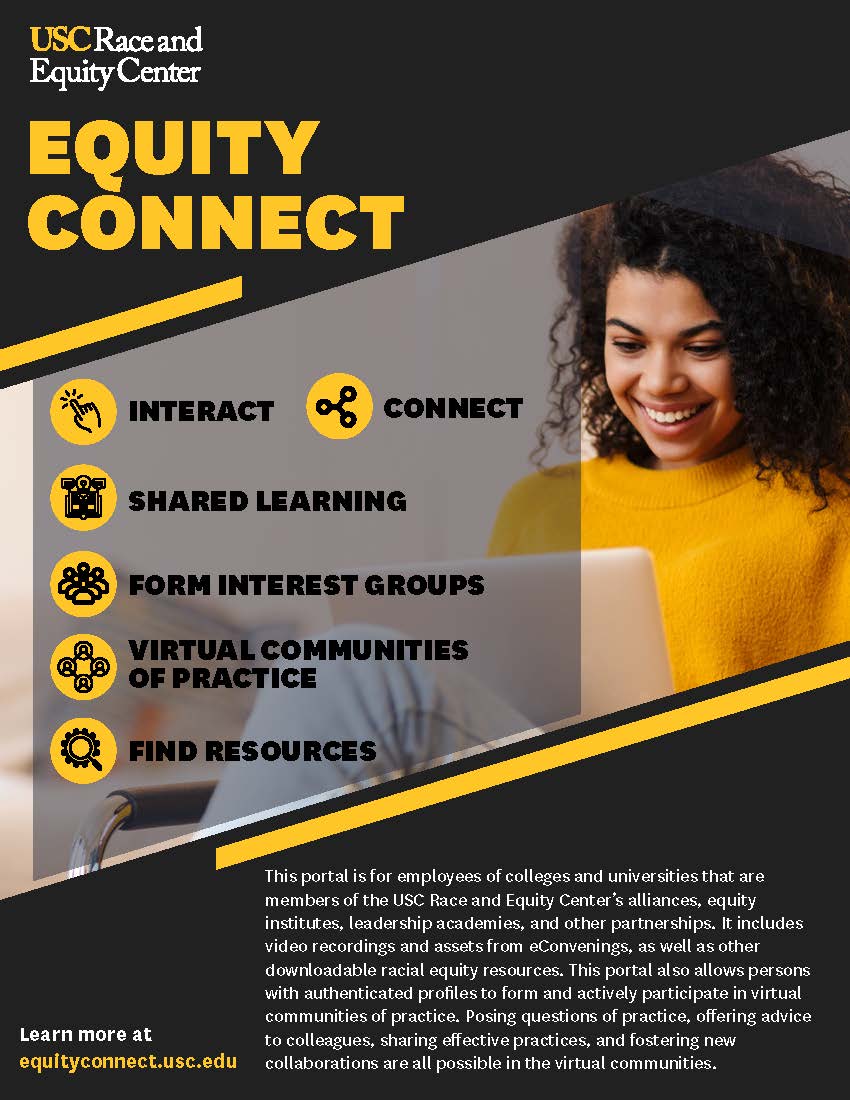 VRC Communities of Practice
The Vision Resource Center has a variety of different Communities of Practice that you can join, several of which are focused on equity-related topics.
To browse the variety of communities of practice available click here.
If the above link doesn't work, try logging into your Vision Resource Center account. Once you're at your homepage, hover your mouse over the "Communities" tab and click "All Communities" (see screenshot below).

For help with logging into your Vision Resource Center account follow the link to this video tutorial.
CORA Learning
CCC Health & Wellness
3CSN
3CSN or California Community Colleges' Success Network is dedicated to supporting colleges as they redesign and reimagine their structures to better support student access, success, equity, and completion. To explore their resources and learn more about their offerings click here.
ZOOM & TIME present Race in the Workplace web series
A web series presented by Shaun Harper, provost professor at USC's Rossier College of Education, and Damien Hooper-Campbell, Zoom's Chief Diversity Officer. To access the web series & its materials click here.
The Chronicle for Higher Education
The Chronicle for Higher Education is a leading news organization dedicated to topics relevant to current issues within higher education. You can sign-up for a free account and gain access to timely articles, reports, virtual events, and more.
For example, The Chronicle published a series entitled, 'Ask Me': What LGBTQ Students Want Their Professors to Know, discussing the challenges LGBTQ+ students face sometimes in the classroom. To view the video created from the project and read the article, please copy and paste the URL below into your web browser.
https://www.chronicle.com/article/ask-me-what-lgbtq-students-want-their-professors-to-know/
Books
This reading list is provided as a place to start to learn about race and equity. Some of the titles are available in the Grossmont College Library and will include a link to follow. Additional resources for reading are available on the Resource List document.
If you have a recommendation for the reading or resource list please send an e-mail to gcprofessional.devel@gcccd.edu.
How to Be an Antiracist by Ibram X. Kendi

White Fragility by Robin DiAngelo

This title is available electronically in the Grossmont College Library

So You Want to Talk About Race

by Ijeoma Oluo

This title is available electronically in the Grossmont College Library

The New Jim Crowe by Michelle Alexander

This title is available electronically in the Grossmont College Library
Documentaries
Other Resources