Faculty & Staff
Ken Ard, Music Education, Piano Studies, Aural Skills
Ken holds a Master's Degree in Piano Performance from the University of Southern Mississippi, with an undergraduate degree in Music Performance from the University of New Orleans, as well as private study with the great Ellis Marsalis. Ard currently maintains a faculty position at both Grossmont and Mesa Colleges in San Diego. In addition, Ard maintains a vibrant private piano studio at his home, where he has approximately twenty students of all ages. Ard is a member of the California Music Teachers' Association , ASCAP, and the Jazz Education Network. One of his private students, Chase Morrin, has won the prestigious ASCAP Young Jazz Composers Award for three years running, the youngest winner ever at twelve years old. Ard is one of the few local piano teachers who specializes in both classical and jazz piano styles. Students range in age from six years old to sixty-something.
Growing up in New Orleans, Ard joined his first band at age twelve and has performed professionally since that time for audiences all over the world, from New Orleans to Europe to San Diego. Before moving to San Diego, Are performed for several years with Tony-nominated vocalist B.J Crosby, of the original cast of Smokey Joe's Cafe on Broadway.
Ard may be be seen with his band, Etouffee, a New Orleans-style R&B dance band, in and around San Diego. Performsing for private and corporate functions, specializing in customized wedding music. Ard also performs as a solo pianist and singer throughout San Diego and Southern California. Most notably, Ard has played long-term engagements at several spots around San Diego including Bertrand's @ Mr. A's, Mille Fleurs, The Loew's at Coronado, and currently at The Inn at the Park.
In 2003-2004, Ard conducted the Jazz Vocal Ensemble, InaChord, as well as teaching and directing the Jazz Vocal Ensemble at Southwestern College for three years. In December, 1999, Ard guest-conducted the 90-voice San Diego Men's Chorus at Spreckels Theater.
The Delta Queen, and Storyville, A Sweet Sportin' Proposition are two original musical theater productions which were written by Ard and produced in New Orleans. Ard has repeatedly performed his lecture-concert, The History of Jazz, with his six-piece combo at various venues throughout San Diego, including the "Jazz in the Park series at Balboa Park. Currently working on a theater piece about Marie Laveau, the legendary New Orleans Voodoo woman, Ard hopes to have a workable production soon. Ard has done extensive musical direction for theater productions in New Orleans and San Diego. A compilation of Ard's original tunes were produced and released on a CD recording, titled Gumbo in My Blood, and on a second live recording Missing New Orleans.
Ken Ard has been a member of the Grossmont College Music Faculty since 1988. His classes include Introduction to Music, and Class Piano.
More information on Ken Ard.
Office: 230-I
Phone: 644-7254
E-Mail: kenny@kennyard.com
Farhad Bahrami, World Music
Farhad Bahrami holds an MA in Ethnomusicology (2007) and a BA in Music Composition (1984) from SDSU, and has been active in the San Diego music scene for 40 years. He plays guitar, Persian tar, and more recently, electric oud. His interests include World Music, Persian Classical Music, and Jazz. His many teachers include his parents, Mrs. Jean Moe, Mr. Brent Dutton, Pandit Trichi Sankaran, Maestro Butch Lacy, Dr. Kevin Delgado, Professor Derek Cannon, Dr. Hafez Modirzadeh, Dr. Hossein Omoumi, and Ostad Mohammadreza Lotfi.
Sean Bassett, Guitar
Randy Beecher, Piano Studies, General Music
Randy is a well known member of San Diego's professional musical community. Mr. Beecher graduated from SDSU with a Bachelor of Arts (B. A.) degree in Music and a Master of Music (M. M.) degree in Musicology.
Mr. Beecher has a 24-year career as a musician, specializing in piano entertainment. As a performer, he is renown for his relaxed stage presence and ability to encourage audience participation. Beecher's musical prowess and diversity span the early classics of the '30s and '40s -- George Gershwin, Cole Porter, Irving Berlin -- to modern composers such as Andrew Lloyd Weber and Marvin Hamlisch.
His public performances include Humphrey's, Hotel del Coronado, Red Tracton's, L'Auberge Del Mar, La Valencia Hotel, Bahia Hotel, Town & Country Hotel, and the Westgate Hotel. He also has performed privately for numerous celebrities including: Ann Bancroft and Mel Brooks, Dick Van Patton, Jenny and Sid Craig, Tim Conway, Dick Enberg, Tony Gwynn, Tommy Lasorda and members of the Los Angeles Dodgers. Randy even shared a piano bench with internationally recognized composer/arranger Burt Bacharach. Mr. Beecher continues to be sought after for weddings and other social and business functions nationally. His regular performances at Mille Fleurs, in affluent Rancho Santa Fe, continues to draw a local and national following.

For more information on Randy Beecher, including professional bookings, please visit his homepage at: www.profbeecher.com
Randy Beecher joined the Grossmont College Music Faculty beginning in the Fall 2000 semester.
His course schedule includes Class Piano and Great Music Listening.
Office: 230-I
Phone: (619) 644-7454 x3617
E-Mail: : teachbeech@gmail.com
Fred Benedetti, Classical Guitar Studies
Fred was born in Sasebo, Japan and began playing the guitar at age 9. In 1986 he was one of 12 guitarists chosen worldwide to perform in the Master Class of Andrés Segovia at USC where Guitarra Magazine wrote, "...Fred Benedetti amazed the audience with his performance of the (Bach) Chaconne..." He has also been a performer for the master classes of Pepe Romero, Christopher Parkening, Federico Moreno-Torroba, George Sakellariou, and David Grimes. Fred has performed in the United States, Canada, Taiwan, England, Germany, Mexico, the Czech Republic, and locally with the San Diego Symphony, the San Diego Opera, the Starlight Opera, the American Ballet Company, the Old Globe Theatre, Luciano Pavarotti, and jazz artist Dave Brubeck.
Presently he teaches at Grossmont College where he is chair of guitar studies, and is a member of the guitar faculty at San Diego State University with George Svoboda, Robert Wetzel and Celin Romero. Fred is listed in the prestigious "Who's Who Among America's Teachers-2002" and received an "Outstanding Faculty Award of the Year in Music," in 2001 from SDSU, the "NISOD" Excellence in Teaching award from the University of Texas at Austin in 1992 and an "Outstanding Chair" award in 1990 from Grossmont College.
Equally at home playing classical music or contemporary music, he records on the SBE label and DOMO records with four noted ensembles: Keltik Kharma (a celtic band), The Odeum Guitar Duo, recently given the honor by the magazine, Acoustic Guitar, as being one of the ten best independently produced guitar CDs for the year 2000, "Blurring the Edges" a recipient of the 1994 San Diego Music Awards "Best Pop-Jazz" album of the year featuring jazz musicians Peter and Tripp Sprague, and the Benedetti/Svoboda Guitar Duo. As a BMI affiliated composer, Fred has written numerous contemporary pieces for the international CD library company Network Productions and as a studio musician for 20 years his playing is featured on over 60 CD's, numerous movie soundtracks, and TV commercials. He has shared the stage with Art Garfunkel, Basia, Michael Franks, Mark O'Connor, Michael Hedges, and Ottmar Liebert, and has recorded with Willie Nelson, Juice Newton, Paul Overstreet, Patty Loveless, Tom Barabas, Big Mountain, Matthew Lien, Ronny Robbins and William Lee Golden. He has performed for dignitaries such as the King & Queen of Malaysia, Mikhail Gorbachev and President Jimmy Carter.
Mr. Benedetti has also been a founding member of the Grossmont College Music Department Faculty Jazz Quintet called Ars Nova.
Fred Benedetti has been a member of the Grossmont College Music Department faculty since 1985. His classes include class guitar, classical guitar, general music and guitar theory, and guitar ensemble.
Office: 230-E
Phone: (619) 644-7259
E-Mail: Fred.Benedetti@gcccd.edu OR fbenede1@san.rr.com
Fred Benedetti on YouTube
More information on Fred Benedetti, music links, and interests!
Doug Booth, Guitar Theory II
A graduate of SDSU, Doug has performed extensively throughout California. He studied jazz guitar with Jack Conway in Palo Alto, and was elected to the Santa Clara County Honor Jazz band, as well as the California All-State Jazz band in 1978. Doug currently teaches guitar at Grossmont College and is a member of the highly successful rock and roll stage show, "Rockola."
Robert Williams: Flute - Robert was an instructor of music theory and music history at Grossmont College until accepting a position in the Poway School District as an instructor of woodwind instruments. Robert continues to perform as a flute soloist and member of several noted chamber ensembles in the San Diego and Los Angeles areas.
Derek Cannon, Department Chair and Director of Jazz & Afro-Cuban Studies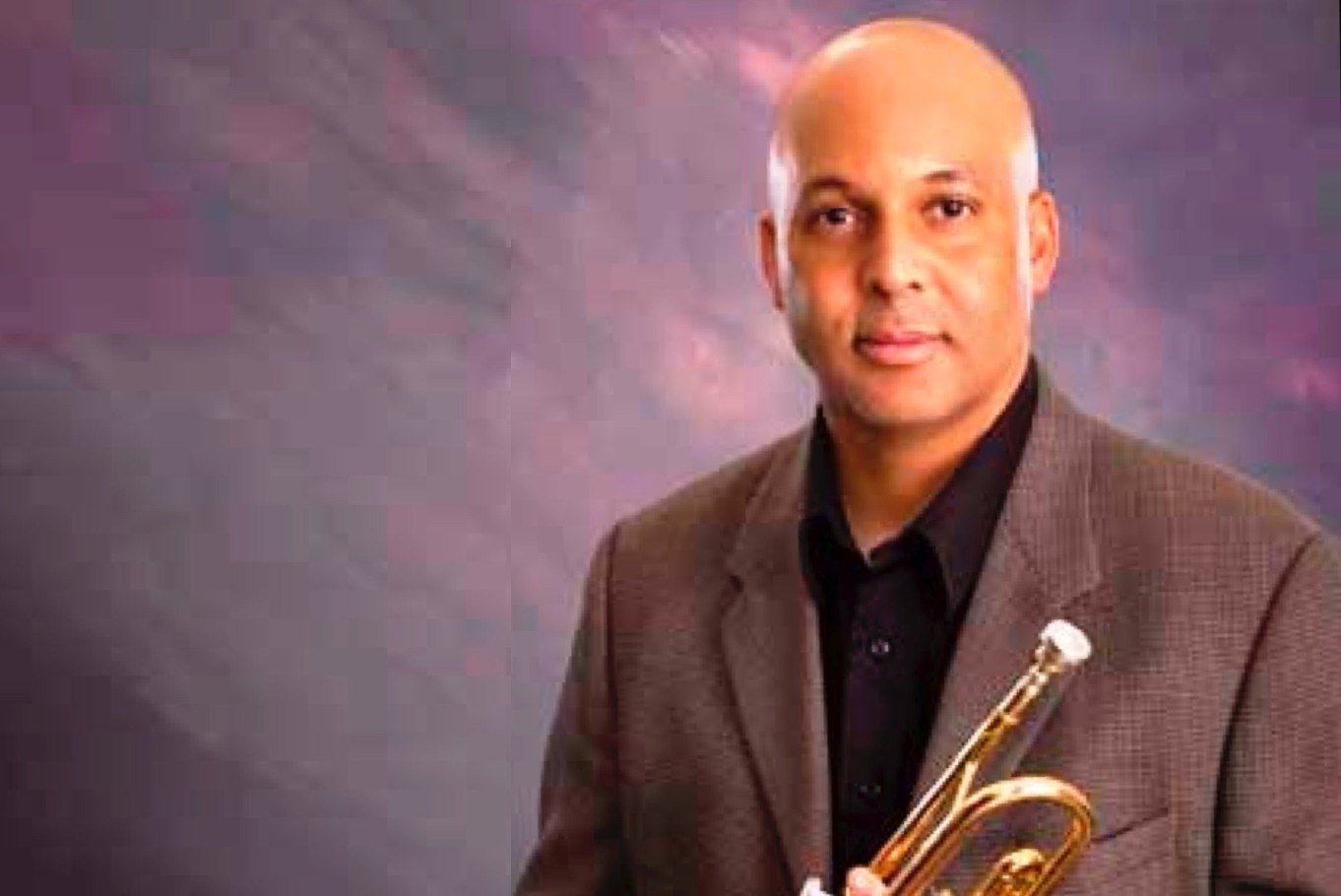 Derek is an accomplished performer and music educator having earned a Bachelor of Arts in Music, and Master of Music degrees from San Diego State University (SDSU). During his time as a student at SDSU he won many soloist awards at jazz festivals throughout the state. Derek has maintained an active performing career which includes performances with Natalie Cole, Clark Terry, The Four Tops, The Temptations, and Jon Faddis to name a few. As a BMI affiliated composer Derek has also written and produced music for several recording artists in the Chicago area.
Internationally, he has performed at The Montreaux Jazz Festival in Switzerland, The North Sea Jazz Festival in The Netherlands, The Umbria Jazz Festival in Italy, and The Montreal Jazz Festival in Canada. Derek's recent recordings include "Coup d' Eclat," with Monette Marino, 2010, "From Me To You," with Paula Prophet, 2010, "Free Your Mind," with Walter Beasley, 2009, "Destiny," with Kamau Kenyatta, 2008, and "Come On Over," with Allison Adams Tucker, 2008.
In addition to being a member of the music faculty at Grossmont College, Mr. Cannon has also chaired the Jazz Studies Department at Chicago State University (1995-1999), and is a member of the jazz studio faculty at San Diego State University. Derek Cannon has been a member of the Grossmont College Music Department Faculty since 1993. His classes include Music Theory, Jazz Improvisation, Elements of Jazz, and he is the founder/director of the Afro-Cuban Ensemble. In 2002, Derek was elected to the prestigious "Who's Who Among America's Teachers."
As a faculty member of the Jazz 88.3 Summer Jazz Workshop, Derek Cannon works with middle school and highschool jazz musicians preparing them for programs across the country, including Grossmont College Music Department's Jazz Studies program. This is just one of the many ways Mr. Cannon engages in music outreach in our community.
Office 230-E
Phone (619) 644-7257
E-Mail: Derek.Cannon@gcccd.edu
Manny Cepeda, Afro-Cuban & Jazz Studies, Music Theory
Manny hails from San Juan, Puerto Rico. His musical experience of over 48 years makes him a fountain of knowledge in the Latin Music genre. He has a Bachelors degree in music from Illinois State University, and a Masters Degree in Performance from Ellington University. He has performed professionally since the age of 7 years old when he was the leader of a 14-piece Salsa Band and performed in National TV for the Mid-day variety show in San Juan Puerto Rico's Channel 4. After his musical education in the Conservatory of Music Pablo Casals, in Puerto Rico, and finishing his musical degrees, Manny joined the US Navy Music Program in 1973. He has lead many Navy Band throughout the US and Overseas. He was the leader of the famous Navy Steel Band and the world traveled U.S. Navy Show Band. He toured the entire continent of South America and West Africa doing 7 world tours. He currently works as the Assistant Director for the CINCSOUTH Band and is also an arranger for many enterprises and bands in the US.
Art Walk 2004 Review
"One of the most promising artists with a background of rich music from the famous Bomba y Plena 'Cepeda' family of Puerto Rico is Manny Cepeda. Since the age of 7, Manny has been performing first as the "Timbales Player" in the acclaimed variety TV "Show de Vigoreaus" in San Juan, Puerto Rico's Channel 4, and with other famous bands such as "Babo Jimenez, Ricardo Ray, Willie Colon and others.
Manny's talents expanded further as his musical knowledge increased and has also developed into a superb composer and arranger. He is now bringing his collection of Salsa/Merengue music to the public and it's sure to be a hit with all the audiences. His energetic beat and the richness of his songs choruses make for this "Paloma Collection" an album to be remembered. Stay tuned for more of Manny Cepeda's music."
Robert Evans, Owner & Art Director, Little Italy Art Walk 2004

For more information on Manny Cepeda, please visit his website at: www.mannycepeda.com
Office: 230-A
Phone: (619) 644-7254
E-Mail: manny.cepeda@gcccd.edu
Raymond Currie, Guitar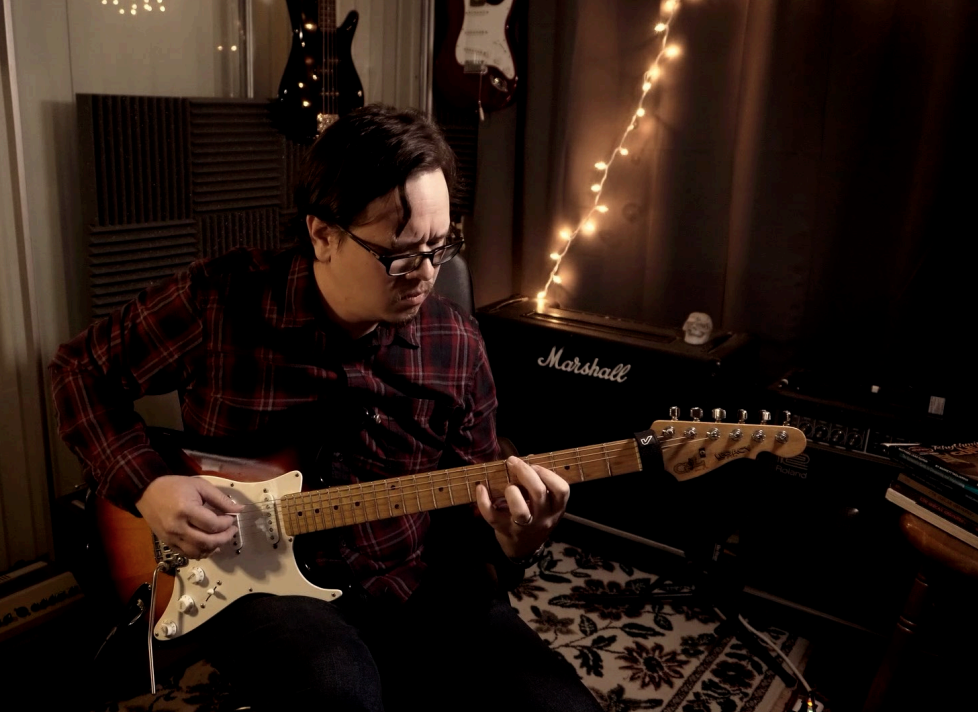 Raymond Currie is a guitarist and educator based in San Diego, CA. He began his formal training in music at Grossmont College studying privately with Robert Wetzel and attending performance studies with Fred Benedetti. He continued his guitar studies with Alexander Dunn, Randy Pile, Colin McAllister, and Celino Romero. During this time he performed in various ensembles and in the master classes of Antonio De Innocentes, Alexander Dunn, Gerd Wuestemann, Scott Wolf, Jason Vieaux, and Celino Romero. Currently, Raymond is an electric guitarist, driven by a fascination of the culture, folklore, and technology that surrounds the instrument and its music. His primary influences include Robben Ford, Allen Hinds, Mateus Asato, Tosin Abasi, Eric Johnson, Guthrie Govan, Julian Lage, and Ted Greene. Raymond Currie received a BA in Music Performance from the University of California San Diego. His MA in Musicology was completed at San Diego State University under the guidance of Eric Smigel. In 2018, he completed all the requirements for a California Single Subject Teaching Credential (Music) at Point Loma Nazarene University.
Office: 230-I
Phone: 619-644-7254
E-Mail:raymond.currie@gcccd.edu
Anthony Cutietta, Music Technician and Classical Guitar
Anthony Cutietta the Department Music Technician and is currently teaching Classical Guitar I.
A former student of the Music Department, Anthony is an active musician and private music instructor. He studied classical guitar under Fred Benedetti at Grossmont College and completed all of the music major courses. He knows what it is like to be in your shoes as a Music Major!
For more information on Anthony Cutietta, please visit his professional webpage here: www.anthonycutietta.com
Office Hours: Monday through Friday
M-F 8:00 a.m. to 5:00 p.m
Office: Room 223
Phone: 619-644-7254
Email: anthony.cutietta@gcccd.edu
Alyze Dreiling, String Orchestra
Alyze Dreiling, violist/violinist, was born in Detroit, Michigan. She began her studies with Mischa Mischakoff –the Detroit Symphony and the Music Study Club of Metropolitan Detroit sponsoring her education. Ms. Dreiling graduated from Indiana University where she studied with Josef Gingold. She holds a Bachelor of Music in Violin Performance from Indiana University and Master of Music from United States International University with an emphasis on Orchestral Performance. She has attended Kneisel Hall, Blossom Music Festival and Academy of the West for chamber music and worked with Walter Trampler, Karen Tuttle, Janos Starker and Menahem Pressler. She has appeared as soloist with the Detroit Symphony, Philharmonia Hungarica at the Vienna Summer Festival, Florida Chamber Orchestra, Knoxville Symphony and Knoxville Chamber Orchestra and served as concertmaster of the Knoxville Symphony and Knoxville Chamber Orchestra before coming to San Diego.

In the San Diego area, she has appeared as soloist with the International Orchestra, Grossmont Symphony Orchestra and the San Diego State Symphony Orchestra. Ms. Dreiling was founding Artistic Director and Conductor of Classics for Kids as well as being Violinist/Conductor of the International Chamber Players at USIU. Adept with all musical styles, she has played concertmaster for Donna Summers, Smoky Robinson, Dionne Warwick and Tom Scott, to name a few. She has also served as concertmaster for shows at the Old Globe, Civic Auditorium, La Jolla Playhouse, Lawrence Welk Theater and Starlight Musical Theater and has also played with San Diego Symphony, OrchestraNova, Hutchins Consort, Opera Pacific, and Orquestra de Baja California. Ms. Dreiling and Myron Fink were awarded a recording prize from Contemporary Recording Society for the production and release of a CD featuring Fink's Violin Sonata #1 and subsequently the Violin Sonata #2.

Currently Ms. Dreiling is in the process of recording Fink's remaining works for Violin and Viola. Presently Ms. Dreiling is on faculties at USD and USD Chamber Music Festival and is violinist with Trio Licenza, the piano trio, in residence at USD, a violinist with Quartetto Sorrento and member of the California Consort. Ms. Dreiling is an orchestra coach for Rancho Bernardo, Westview and Del Norte High Schools and maintains a private teaching studio. She is a member of the Music Teachers Association of California (MTAC) and adjudicator for the Certificate of Merit program, member of the Music Teachers National Association (MTNA), and the National Piano Guild.

Alyze is the Principal Violist of the Grossmont Symphony Orchestra and Violist of the Grossmont Symphony String Quartet. She also teaches courses in Music Fundamentals.
Office: 230-A
Phone: (619) 644-7254
E-Mail: alyze.dreiling@gcccd.edu
Website: www.alyzedreiling.com
Dr. Erik Garriott, DMA, Music Theory II
Dr. Erik Garriott is a conductor, pianist, percussionist, and music educator residing in San Diego, CA. His music studies began at Point Loma Nazarene University (PLNU) where he received a Bachelor of Arts in Music Education in 2010. In 2013, he completed a Master of Music in Orchestral Conducting at California State University Northridge (CSUN). Finally, he received his Doctor of Musical Arts in Orchestral Conducting from the University of South Carolina (UofSC) in 2017.
Dr. Garriott has conducted and worked with many ensembles in the United States including: the PLNU concert band (2007-2010), the PLNU chamber orchestra (2008-2010), San Diego Honor Band (2008), Point Loma Opera Theatre (2009, 2017), CSUN Symphony Orchestra (2011-2013), CSUN Opera (2011-2013), CSUN Youth Philharmonic and Youth Symphony (2011-2013), UofSC Symphony Orchestra (2014-2017), UofSC Campus Orchestra (2014-2017), and the Columbia Community Orchestra (2016-2017).
Dr. Garriott currently works with the San Diego Community College District and the Grossmont-Cuyamaca College District as an adjunct professor of music. He also maintains a student schedule at Greene Music Education Center, and in his own private studio.
If you are interested in learning more please visit www.completeconductor.com
Melonie Grinnell, Director of Piano Studies and Vocal Jazz
Melonie Grinnell is a San Diego based jazz pianist. Active as an educator and performer, she began studying piano at the age of four and has since been recognized not only for her skills as a pianist, but also for her abilities as a vocalist, music educator, and musical director. Melonie received her Bachelors of Music degree in Music Education with a jazz emphasis from the University of Miami and a Masters of Music performance degree in Jazz Studies from San Diego State University.
Melonie has an extensive list of musical performance experiences in jazz, classical and musical theater. She has performed in well-known San Diego jazz venues including Dizzy's, Croce's Jazz Bar, 98 Bottles and the Athenaeum Music and Arts Library. Melonie has also worked as a musical director and pit keyboardist for Starlight Civic Theater, the San Diego Repertory Theater, and the Lawrence Welk Theater. Additionally, she has been employed by Royal Caribbean International Cruises, both as a pianist and musical director for shows featuring major headliner acts.
Melonie has been a music educator at the college level for 15 years and is proud to be part of the prestigious music faculty here at Grossmont College. Her teaching experience extends to Miracosta and Southwestern Colleges. Classes include Music Theory I, Class Piano, Music History, Jazz Piano, Musicianship for General Ed. Elementary and Vocal Jazz Ensemble. She teaches traditional face-to-face classes as well as online classes.
Additionally, she is on the faculty for the Francis Parker/KSDS 88.3 Summer Jazz Workshop where she teaches jazz piano and co-directs middle school to high school student ensembles. She is also active as an adjudicator for instrumental jazz festivals including the Coronado/COSA Jazz Festival and the KSDS Jazz 88/CMEA festival.
Melonie Grinnell has been a member of the Grossmont College Music faculty since 2001.
Office: 230-I
Phone: (619) 644-7254
E-Mail: melonie.grinnell@yahoo.com
For more information on Melonie Grinnell, please visit her professional webpage at: www.meloniemusic.com
Justin Grinnell, History of Jazz
Justin Grinnell is a San Diego-based freelance musician and music educator. A versatile acoustic and electric bassist, Justin is comfortable performing a wide variety of musical styles such as jazz, latin, funk, rock, pop, musical theater, and classical.
In May 2005, Justin received his Master's Degree in Jazz Performance from San Diego State University. While attending SDSU on a full scholarship, he had the opportunity to travel, perform, and teach in South and Central America as a member of two faculty-student jazz groups. At this time, Justin studied privately with internationally acclaimed acoustic bass soloist, Bert Turetzky.
After receiving his Master's degree in Jazz Performance from SDSU, Justin was accepted into the Henry Mancini Institute's 2005 Summer Education Program on a full scholarship. HMI provided Justin with the opportunity to work with one of Los Angeles' premiere session bassists, Nathan East, as well as Billy Childs, Dave Liebman, Christian McBride, and Vince Mendoza.
Justin is currently performing and composing for several jazz-influenced groups. In addition to leading his own groups, Justin is also a member of the Brazilian Jazz-inspired Danny Green Trio. The trio's debut CD, "With You In Mind," won the 2009 San Diego Music Award for Best Jazz Album and their 2012 sophomore release, "A Thousand Ways Home," was recently nominated for the same award. Justin is also a member of the ARC Trio, a creative collaboration stretching the boundaries of modern jazz.
Although Justin is often performing in familiar San Diego jazz hotspots, he is also no stranger to San Diego's best-known theaters: the Civic Theatre, the Old Globe, Spreckels, and the La Jolla Playhouse. Justin has spent a lot of time at these venues as a pit orchestra member for a number of Tony Award-winning musicals, such as A Chorus Line, Avenue Q, The Drowsy Chaperone, Spamalot, Grease, and The Color Purple.
Justin recently began his doctoral studies at the University of Southern California. Besides studying privately with Los Angeles' first-call jazz bassist, Darek Oles, Justin's enrollment at USC has already given him the opportunity to study with internationally-recognized jazz artists Peter Erskine, Russ Ferrante, Bob Mintzer, and Alan Pasqua.
In addition to his performing schedule, Justin is also a dedicated music educator. In addition to teaching at Grossmont College, he frequently serves as an adjudicator and clinician at local jazz festivals.
If you'd like to read more about Justin and his musical activities, then check out his website and regularly updated itinerary at http://www.justingrinnell.com/.
Business Email: justinjazzbass@yahoo.com (preferred mode of contact)
Phone: (619) 644-7254
Office: 230-I
Justin has been teaching in the Grossmont College Music Department since Fall 2005. His current courses include MUS 105: Music Theory I and MUS 111: The History of Jazz.
Jeff Hofmockel, History of Rock Music
Jeff has been a "gigging guitarist" in San Diego since 1972, and in the 70's worked with many local "Top Forty" bands, including Nimbus, Soul Expression, Showboat and others. Jeff worked with many blues artists in the mid-70's, such as Tom Cat Courtney and His Blues Dusters, Kansas City pianist Bob Jeffries and Jamaican blues artist Louis Majors. In the mid-70's Jeff was also a member of rock band Jamul, who had a Billboard Top 100 hit with their rendition of "Tobacco Road." From 1978 to 1988, Jeff worked mainly with "oldies" band the Ducktail Revue at the Sheraton Harbor Island, Mission Valley Hilton Hotel, Hanalei Hotel and many other restaurants and clubs. With the Ducktail Revue, Jeff has performed as an opening act for the Platters, the Coasters, Frankie Avalon, the Diamonds, Little Anthony, the Drifters, the Hollywood Argyles, the Kingston Trio, the Bellamy Brothers, Roger Miller, the Association, the Four Freshman and Mel Tillis. As a member of Reeves In Motion, Jeff backed up the Coasters, and as a member of the Belair Boys, Jeff opened for the Four Tops. Jeff has also performed with "oldies" bands Rama Lama, the Impostors, and the Midnight Hour.

Since 1995, Jeff has mainly worked with Breez'n, a variety band that does smooth, Latin and straight-ahead jazz as well as pop, disco, classic rock and rhythm and blues. Breez'n has played many wedding receptions, corporate events and private parties, along with restaurants, night clubs and many summer "Concert in the Park" events. Breez'n has played at the KIFM Jazz Festival every year since 1996, and also performs yearly at the Del Mar Electronics Fair. Besides continuing to perform with Breez'n, Jeff works with various straight-ahead jazz combos and alternative rock band Kitten With a Whip. Jeff also plays at the Comedy Store on Sunday nights, "riffing" between comedy acts!

After graduating from high school in 1970 and attending UCSD as a math major, Jeff began his musical studies at Mesa College in 1972. Jeff continued to take music classes at San Diego State University through the 70's and 80's while continuing to "gig" and work part time delivery jobs, finally receiving his Bachelor of Arts degree in 1990. Jeff returned to SDSU to complete his Master of Music degree in Jazz Guitar Performance in 1998. While a student, Jeff studied jazz guitar with Everett Gonsalves, Peter Sprague, Bill MacPherson and Art Johnson. Jeff also performed with the SDSU Jazz Ensembles and Jazz Combos, including 1997 concerts with the "A" band backing up Gary Lefebre, Ellen Johnson, Louis Bellson and Pete Christlieb. Jeff also taught three semesters of Jazz Guitar Ensemble and a semester of Jazz Combo while a grad student at SDSU.

Jeff has taught History of Jazz at Grossmont College since Fall 2005. Jeff is one of two staff Jazz Guitar instructors, and has taught Class Guitar and subbed for Music Theory classes. Jeff has performed with the Grossmont Jazz Ensemble, the Grossmont Jazz Faculty and fellow teacher Paul Kurokawa.
Office: 230-I
Phone: 644-7254
Campus E-Mail: jeffrey.hofmockel@gcccd.edu
Lorie Kirkell, Great Music Listening
Lorie Kirkell is an acclaimed American cellist, who has developed a glowing career on the West Coast as soloist, recitalist, and chamber music player. After her studies on the East Coast with distinguished cellists Raya Garbousova and Bernard Greenhouse, she spent some time doing freelance work and repertoire development. She then came to the West Coast where she earned a Master of Arts degree in music at the University of California San Diego and studied with the well known cellist Peter Farrell. Her research into repertoire moved into the 20th century as well as performance practice of music of earlier times. After this, a long series of recitals and solo appearances began and continue with noticeable frequency and high critical acclaim. She has appeared as principal cellist with orchestras for the Bolshoi Ballet and San Francisco Ballet. Ms. Kirkell has performed at the Old Globe, La Jolla Playhouse, Civic Theater, and with many other music organizations. She is the Director of the Novellus Ensemble.

Lorie Kirkell has been a member of the Grossmont College Music Department Faculty since 2002. Her classes include Great Music Listening.
Office: 230-I
Phone: (619) 644-7254
E-Mail: lorie.kirkell@gcccd.edu
Philip (Jay Jay) Lim, Piano
"Jay Jay" completed his B.S. with a minor in music at the University of Arizona and his B.M. in Music Therapy from the Berklee College of Music. He has since worked as a music therapist, educator, and performer in San Diego since 1999. He served eight years as a music therapist at the Bayview Behavioral Health Campus in Chula Vista, where he helped clients of all ages cope with various psychiatric issues. His position at Bayview also allowed him to work as a clinical training supervisor for Musicworx of California, where he has supervised, oriented, trained, and formally evaluated music therapy interns to prepare for work in the adult psychiatric setting.

Since 1999, Jay Jay has served as a music therapist and educator for the Greene Music Education Center. As an educator for Greene Music, he has had the chance to acquire a wealth of experience of teaching piano to the adult learner, and as a music therapist, his experiences have varied from creating a geriatric music therapy program for assisted living and skilled nursing facilities, to involvement with the Senior Recreational Music Making Project, a bi-coastal research collaboration between Yamaha, Remo Drums, and the Mind-Body Wellness Center in Meadeville, PA. During this 2-year project, he was one of two music therapists on a research team which studied the effects of creating a "musiculture" within an older adult facility.

Although education remains his passion, Jay Jay has enjoyed a busy schedule as a performer. He is music director and accompanist for Park Hill United Methodist Church in Chula Vista, and he plays twice a week at Croce's Jazz Bar for both Yavaz and the Dave Scott Ensemble. He is currently a board member of JAG (Jazz Association of Greater San Diego), and since the year 2000, he has been pianist and coordinator for a weekly jazz jam which is currently held at South Park Bar and Grill. He has more recently finished a M.M. in Jazz Studies at the San Diego State University, where he studied with Rick Helzer. Jay Jay continues to study with San Diego pianist, Lynn Willard. For more information on Jay Jay, please visit his webpage at: www.jayjaylim.com
Jay Jay has been a member of the Grossmont College Music Faculty since the Fall of 2007. His classes include Class Piano and Introduction to Music.
Office: 230-I
Phone: 644-7254
E-Mail: pianoinstructor@gmail.com
James Morton, History of Rock Music
James was born and raised in Houston, Texas and received the major portion of his musical education through "experience." Having performed with several notable artists in the jazz and rock fields, he continues to perform in a variety of venues. He has written for Mel Bay Publications since 1980, and has ten books to his credit. Some of his publications include: You Can Teach Yourself Drums, Easiest Drumset Book, Easy Rock Drum Charts, Killer-Fillers, Hot Drum Grooves, Hot Drum Grooves Made Easy and Rock Studies for Drumset. He recently completed an instructional video for Mel Bay, and is currently working on a book about "rhythm and blues" drumming.

Mr. Morton has also been a founding member of the Grossmont College Music Department Faculty Jazz Quintet called Ars Nova.

James Morton has been a member of the Grossmont College Music Department Faculty since 1989. His classes include History of Rock and Roll, and Modern Drumset Technique.
Office: 230-I
Phone: (619) 644-7254
E-Mail: jmortondrums@sbcglobal.net
Branden Muresan, Great Music Listening
Branden is a native of Southern California. He holds a Bachelor' s of Music in Violin Performance from San Diego State University where he studied with Igor and Vesna Gruppman as well as Juanita Cummins. Muresan completed his Master's in Music in Instrumental Conducting under the supervision of Donald Barra and Harold Warman from SDSU in 2000.

During the past three years, he has conducted concerts given by the SDSU University Symphony and collaborated with SDSU Opera Theater for a production of Gilbert and Sullivan's The Mikado. Muresan has appeared previously as guest conductor for both the Grossmont Symphony and the Palomar Symphony Orchestras. Muresan is on the faculty at both Grossmont and Palomar Community Colleges as well as substitute conductor for the Civic Youth Orchestra of San Diego. Muresan served for three years as volunteer strings chairman for the Music Teachers Association of California, and is currently string coaching for the Helix High School Orchestra. A resident of San Clemente, Muresan also gives private instruction for students from Mission Viejo to San Diego. Muresan currently occupies the STAT Pharmaceutical Company's Mentor /Tutor Chair in the Grossmont Symphony and performs both as violinist and Assistant Conductor of the Palomar Symphony Orchestra.

Branden Muresan has been a member of the Grossmont College Music Department Faculty since 2001. His classes include Great Music Listening and Introduction to Music, in addition to occupying the STAT Pharmaceutical Endowed Violin Chair in the Grossmont Symphony Orchestra..
Office: 230-I
Phone: (619) 644-7254
E-Mail: violinmanb@yahoo.com
Audra Nagby, Voice, Intro to Music and Performance Studies
Audra Puccio-Nagby, Lyric Coloratura Soprano, has sung internationally as a soprano concert soloist since 2001, performing in works such as Handel's Messiah , Lloyd-Webber's Requiem, Vivaldi's Gloria, Mozart's Requiem, Haydn's Creation, Faure's Requiem, Mozart's Missa Brevis in C , Orff's Carmina Burana, and Haydn's Lord Nelson Mass, Bach's Magnificat, Monteverdi's Magnificat, Mendelssohn's A Midsummer Night's Dream. Audra has a particular love for singing sacred music, believing that all gifts are given from God.

In addition to singing sacred music, Audra is an active recital artist, and in this past year performed Bach's Wedding Cantata, Songs for Voice and Classical Guitar, By George! A Tribute to George Gershwin, and A History of American Art Song which she performed throughout the United States, in addition to giving Master Classes.

Audra has appeared on stage in a number of opera, oratorio, and musical theatre roles, as well. Her favorite opera roles include Tytania from A Midsummer Night's Dream, Baby Doe from The Ballad of Baby Doe, and The Queen of the Night from Die Zauberflöte. She has also performed in several of Gilbert and Sullivan's operettas, and was last seen as Mabel in Pirates of Penzance. Audra was honored to sing the role of Penseroso with Grossmont Symphonic Orchestra in Handel's L'Allegro Il Penseroso ed il Moderato, one of her favorite oratorios. Audra's most memorable Musical theatre roles include Eliza Doolittle from My Fair Lady, and The Narrator from Joseph and the Amazing Technicolor Dream Coat. In addition to acting in musical theatre, she has also had the pleasure of being a children's musical theatre director and choral music director for several years. She loves teaching as well as singing, and hopes that her passion for music will rub off on her students and inspire them to continue to grow in their musical pursuits.

Audra earned her Master's of Music in Vocal Performance from San Diego State University, and is currently living in San Diego with her two energetic little boys, her wonderful husband, and dog named Figaro. She maintains an active voice studio, and serves on the board of directors for the National Association of Teachers of Singing as well as the Grossmont College Friends of Music, and has been a member of the Grossmont College Music Faculty since the Fall of 2013.
Office: 230-I
Phone: 644-7254
E-Mail: audra.nagby@gcccd.edu
Tim Poulin, Music Thoery and Recording & Midi Sequencing
Tim is a passionate freelance teacher and composer. His compositional work has focused on generative and interactive electronic pieces but also includes music for video and acoustic instruments.

Beginning his music career as a Grossmont College piano performance major, Tim then continued his studies at the University of California Santa Barbara's College of Creative Studies where he received a B.A. in Creative Studies (Music Composition) in 2002. He graduated from SDSU with an M.M. in Music Composition (emphasis electronic music) in 2010, where he helped run the bi-annual Electronic Music Marathons and the annual New West Electronic Arts and Music Organization (NWEAMO) festival. As a Sally Casanova pre-doctoral scholar, Tim studied and acted as guest artist in Morelia, Mexico at CMMAS (Centro Mexicano para la Música y las Artes Sonoras), the Mexican Center for Music and Sound Arts, where he presented work on the connection of dynamic animations to generative sound.

Tim's works have received numbers performances including interactive pieces that have been featured at the Galapagos Art Space (Brooklyn NY), and Stony Brook University.

In addition to teaching, Tim is currently working on new exploratory sound pieces based upon cognitive thresholds as well as music related to romantic science-based themes.

Tim joined the Grossmont College Music Faculty in the Fall of 2011. His classes include Music Theory.

Office: 230-I
Phone: 644-7254
E-mail: tim.poulin@gmail.com
Web: www.timpoulin.com
Russ Sperling, Concert Band Director
Russ Sperling is Director of the Grossmont College Concert Band. He also serves as Director of Visual and Performing Arts (VAPA) for San Diego Unified School District. He is responsible for all components of arts education in California's second largest school district. Under his leadership, the district's board of trustees unanimously approved a district Strategic Arts Education Plan in the fall of 2016 and established the VAPA Foundation, supporting the arts in schools in 2017.
He is a founder and remains the lead coordinator of the San Diego Pride Youth Marching Band, an ensemble of 80 high school and college students from throughout Southern California. The band performs at San Diego Pride events and is the only one of its kind internationally.
Mr. Sperling serves on the board for Diversionary Theatre, the third oldest LGBT theatre in the U.S. He has served as Western Division President of the National Association for Music Education (NAfME) and also as President of the California Music Educators Association (CMEA). He is the founding President and present board member of the San Diego Winds, a professional wind ensemble.
Mr. Sperling served three years as Visual and Performing Arts Coordinator for the San Diego County Office of Education. While at the county, he served as the leader of Arts Empower San Diego, San Diego County's strategic arts education initiative, and created the annual Arts Empower Mega Conference. He also served four years as Director of Visual and Performing Arts for the Sweetwater Union High School District.
Mr. Sperling began his career as the Instrumental Music Director at Helix Charter High School. During his fourteen-year tenure at Helix, the band and orchestra tripled in size, won numerous awards and performed in Europe on three tours.
Mr. Sperling holds a B.A. in Political Science from California Polytechnic State University, San Luis Obispo, a Masters in Educational Leadership from Point Loma Nazarene University and a second Masters in Music Performance with an emphasis in Conducting from San Diego State University.
Mr. Sperling was recognized as San Diego Pride's Volunteer of the Year in 2019. He has received the Arts Advocate award from Bravo San Diego. From the CMEA Southern Border Section, he has received their "Music Educator," "Administrator," and "Band Director" of the year awards. He has received the Outstanding Administrator award by the California Art Education Association, and has been honored as a distinguished alumnus by the School of Music and Dance at San Diego State University. He has received the "Prize Principal Award" from KYXY FM and Point Loma Nazarene University. He has received the Golden Apple Award from Helix Charter High School for excellence in teaching.

Director of Visual and Performing Arts
San Diego Unified School District
Russ Sperling, Director Grossmont College Concert Band
Office: 230-I
Phone: 644-7254
E-Mail: sperlingruss@gmail.com
Randall Tweed, D.M.A., Director of Choral/Vocal/Orchestral Studies
Randy has been conducting opera, symphony, and chorus throughout Southern and Baja California since joining the music faculty in 1986. Dr. Tweed has frequently appeared as guest conductor on concert music series throughout Southern California including the Cabrillo Chamber Orchestra, the United States International Orchestra, Spreckels Organ Society, and various educational and church music concert series. In the area of education Dr. Tweed has appeared as adjudicator for the Music Educator's National Conference, the Music Teacher's Association of California, the Grossmont Community Concert Association Instrumental Scholarship Auditions, and has twice appeared as conductor for the Suzuki awards concerts.

Dr. Tweed's performing experience is both in the areas of vocal and instrumental fields winning competitions sponsored by the La Jolla Civic University Orchestra and the Musical Merit Foundation of Greater San Diego. Dr. Tweed received the doctorate in musical arts (D.M.A.) from the School of Music at Arizona State University, located in Tempe, Arizona. He has also completed two Master of Music degrees from the University of Southern California in addition to pursuing post-graduate study in Berlin, Germany (studying at the Berliner Kirchenmusikschule) where he was a recipient of a Konrad Adenauer Foundation Fellowship.

In addition to expanding both the orchestral and choral programs at Grossmont College, Dr. Tweed initiated a series of concert programs dedicated to educating East County's children beginning in March of 1993 organizing a "musical petting zoo" for the children, under the supervision of the members of the Orchestra and Master Chorale, to "touch," "pet," and "play" the instruments of the orchestra just prior to hearing the actual concert. Aside from giving the members of the Grossmont Symphony Orchestra and Grossmont Master Chorale the experience of learning and performing an extensive variety of orchestral and choral literature, Dr. Tweed has given those members the opportunity to acquire greater stamina and self-assuredness by scheduling extra performances off campus. Being a civic minded person as well as an artist and educator, Dr. Tweed has contributed to the community by bringing his wonderful orchestra and chorale to areas that otherwise would have "missed out." In addition, he has succeeded in integrating community and college life by providing quality art to his East County audiences.
Dr. Tweed is has been a member of the Grossmont College Music Department Faculty since 1986. His classes include Music Theory, Music History, Performance Studies, Voice Class, in addition to the Grossmont Symphony Orchestra & Master Chorale.
Office: 230-D
Phone: (619) 644-7298
E-Mail: Randall.Tweed@gcccd.edu
Information for Dr. Tweed's GSO members.
Information for Dr. Tweed's Music Theory Students.
Information for Dr. Tweed's GMC members.
Information for Dr. Tweed's Voice Class Students
Bryan Verhoye, Piano and Music Theory III/IV
Bryan Verhoye is a concert pianist who trained at the USC School of Music, the Aspen Music School, and the Peabody Conservatory. He has won first-prize awards from the International Piano Recording Competition and the Carmel Music Society, as well as multiple awards from the Musical Merit Foundation of San Diego. His performance in Carmel of Stravinsky's "Three Movements From Petrouchka" was broadcast on National Public Radio's syndicated Performance Today program.
In addition to being featured numerous times with the San Diego Symphony in both classical and jazz settings, he has appeared every December since 2001 in the Carols By Candlelight concert alongside performers such as Kenny Loggins, America, The Little River Band, Stephen Bishop, Billy Ray Cyrus and Kim Carnes; he has also appeared in concert with Grammy-award winning violinist/composer Mark O'Connor.
Mr. Verhoye has appeared frequently as a solo recitalist, accompanist, and concerto and chamber music performer in San Diego and throughout the West Coast. He has performed for the educational outreach programs of the San Diego Chamber Orchestra, the La Jolla Music Society and the Mainly Mozart Festival.
Along with teaching piano, being a published composer and arranger, and being the accompanist for the San Diego Master Chorale since 1998, he is also Music Associate at Point Loma Community Presbyterian Church, and Adjunct Professor of Music at Grossmont College.
Office: Room 230-I
Phone: (619) 644-7254
E-mail: bryanverhoye@me.com