Bloodstain Pattern Analysis
Bloodstain Pattern Analysis (BPA)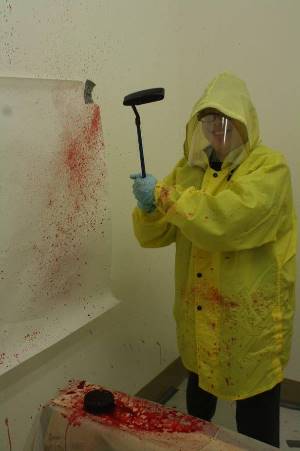 Next offering tentatively TBD
8:00am - 6:50pm (includes 1-hour lunch)

POST Certified - 40-Hours

POST CC# TBA

AOJ TBD - Advanced Officer Course

Room 34-111 Forensics Lab

Tuition $115*

Parking $2.00 per day
This course is designed for professionals in the law enforcement or forensics field.

For priority registration, all professionals should register for this course prior to TBD.

AOJ students with 18 units or more in Administration of Justice (AOJ) may enroll in this course after TBD. Please contact us for more information or to be placed on a waiting list, starting TBD.
This course meets the curriculum requirements set forth by the International Association for Bloodstain Pattern Analysts (IABPA).

For more curriculum information, please contact course instructor, Tina Young, Certified Bloodstain Analyst at.
For registration verification, please contact the AOJ Office.
*Tuition is for California residents at $46 per unit. Parking, health and student rep fees are not included. health fee is $17 and the student rep fee is $1.00.
Register on the Internet
Before you register for class, you must have an application with Grossmont College on file, and it takes 24 hours to process your application. If you are a returning student, and have been absent for more than one year, you must re-apply to the college.
You can only register for classes at your registration date and time or after through your Self-Service account.
For the BPA course, type AOJ-251 (and corresponding letter A-D).