Theory & Fundamentals
Melonie Grinnell, Theory I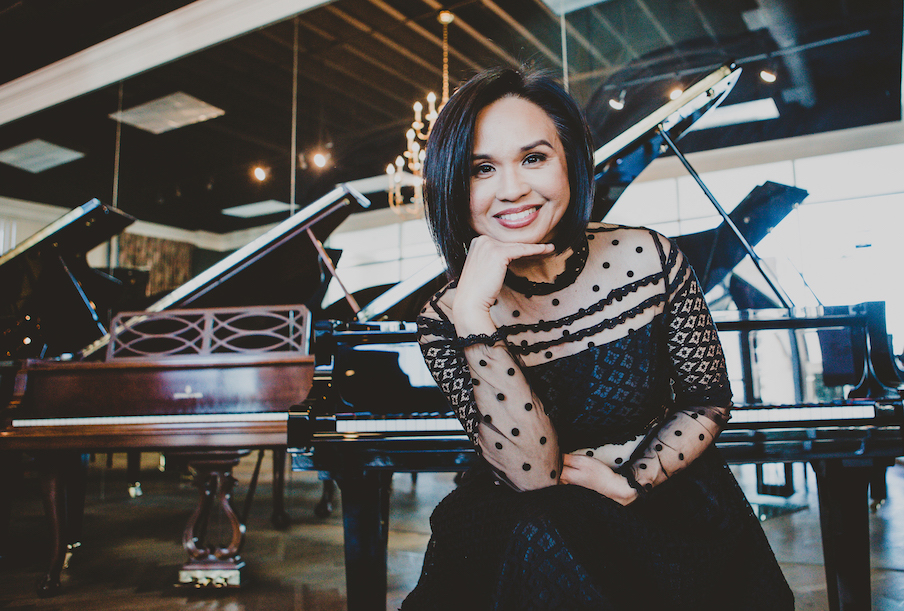 Melonie Grinnell is a San Diego based jazz pianist. Active as an educator and performer, she began studying piano at the age of four and has since been recognized not only for her skills as a pianist, but also for her abilities as a vocalist, music educator, and musical director. Melonie received her Bachelors of Music degree in Music Education with a jazz emphasis from the University of Miami and a Masters of Music performance degree in Jazz Studies from San Diego State University.
Melonie has an extensive list of musical performance experiences in jazz, classical and musical theater. She has performed in well-known San Diego jazz venues including Dizzy's, Croce's Jazz Bar, 98 Bottles and the Athenaeum Music and Arts Library. Melonie has also worked as a musical director and pit keyboardist for Starlight Civic Theater, the San Diego Repertory Theater, and the Lawrence Welk Theater. Additionally, she has been employed by Royal Caribbean International Cruises, both as a pianist and musical director for shows featuring major headliner acts.
Melonie has been a music educator at the college level for 15 years and is proud to be part of the prestigious music faculty here at Grossmont College. Her teaching experience extends to Miracosta and Southwestern Colleges. Classes include Music Theory I, Class Piano, Music History, Jazz Piano, Musicianship for General Ed. Elementary and Vocal Jazz Ensemble. She teaches traditional face-to-face classes as well as online classes.
Additionally, she is on the faculty for the Francis Parker/KSDS 88.3 Summer Jazz Workshop where she teaches jazz piano and co-directs middle school to high school student ensembles. She is also active as an adjudicator for instrumental jazz festivals including the Coronado/COSA Jazz Festival and the KSDS Jazz 88/CMEA festival.
Melonie Grinnell has been a member of the Grossmont College Music faculty since 2001.
Office: 230-I
Phone: (619) 644-7254
E-Mail: melonie.grinnell@yahoo.com
For more information on Melonie Grinnell, please visit her professional webpage at: www.meloniemusic.com
Tim Poulin, Theory I
Tim is a passionate freelance teacher and composer. His compositional work has focused on generative and interactive electronic pieces but also includes music for video and acoustic instruments.
Beginning his music career as a Grossmont College piano performance major, Tim then continued his studies at the University of California Santa Barbara's College of Creative Studies where he received a B.A. in Creative Studies (Music Composition) in 2002. He graduated from SDSU with an M.M. in Music Composition (emphasis electronic music) in 2010, where he helped run the bi-annual Electronic Music Marathons and the annual New West Electronic Arts and Music Organization (NWEAMO) festival. As a Sally Casanova pre-doctoral scholar, Tim studied and acted as guest artist in Morelia, Mexico at CMMAS (Centro Mexicano para la Música y las Artes Sonoras), the Mexican Center for Music and Sound Arts, where he presented work on the connection of dynamic animations to generative sound.
Tim's works have received numbers performances including interactive pieces that have been featured at the Galapagos Art Space (Brooklyn NY), and Stony Brook University.
In addition to teaching, Tim is currently working on new exploratory sound pieces based upon cognitive thresholds as well as music related to romantic science-based themes.
Tim joined the Grossmont College Music Faculty in the Fall of 2011. His classes include Music Theory.
Office: 230-I
Phone: 644-7254
E-mail: tim.poulin@gmail.com
Fred Benedetti, Theory II
Fred was born in Sasebo, Japan and began playing the guitar at age 9. In 1986 he was one of 12 guitarists chosen worldwide to perform in the Master Class of Andrés Segovia at USC where Guitarra Magazine wrote, "...Fred Benedetti amazed the audience with his performance of the (Bach) Chaconne..." He has also been a performer for the master classes of Pepe Romero, Christopher Parkening, Federico Moreno-Torroba, George Sakellariou, and David Grimes. Fred has performed in the United States, Canada, Taiwan, England, Germany, Mexico, the Czech Republic, and locally with the San Diego Symphony, the San Diego Opera, the Starlight Opera, the American Ballet Company, the Old Globe Theatre, Luciano Pavarotti, and jazz artist Dave Brubeck.

Presently he teaches at Grossmont College where he is chair of guitar studies, and is a member of the guitar faculty at San Diego State University with George Svoboda, Robert Wetzel and Celin Romero. Fred is listed in the prestigious "Who's Who Among America's Teachers-2002" and received an "Outstanding Faculty Award of the Year in Music," in 2001 from SDSU, the "NISOD" Excellence in Teaching award from the University of Texas at Austin in 1992 and an "Outstanding Chair" award in 1990 from Grossmont College.

Equally at home playing classical music or contemporary music, he records on the SBE label and DOMO records with four noted ensembles: Keltik Kharma (a celtic band), The Odeum Guitar Duo, recently given the honor by the magazine, Acoustic Guitar, as being one of the ten best independently produced guitar CDs for the year 2000, "Blurring the Edges" a recipient of the 1994 San Diego Music Awards "Best Pop-Jazz" album of the year featuring jazz musicians Peter and Tripp Sprague, and the Benedetti/Svoboda Guitar Duo. As a BMI affiliated composer, Fred has written numerous contemporary pieces for the international CD library company Network Productions and as a studio musician for 20 years his playing is featured on over 60 CD's, numerous movie soundtracks, and TV commercials. He has shared the stage with Art Garfunkel, Basia, Michael Franks, Mark O'Connor, Michael Hedges, and Ottmar Liebert, and has recorded with Willie Nelson, Juice Newton, Paul Overstreet, Patty Loveless, Tom Barabas, Big Mountain, Matthew Lien, Ronny Robbins and William Lee Golden. He has performed for dignitaries such as the King & Queen of Malaysia, Mikhail Gorbachev and President Jimmy Carter.

Mr. Benedetti has also been a founding member of the Grossmont College Music Department Faculty Jazz Quintet called Ars Nova.

Fred Benedetti has been a member of the Grossmont College Music Department faculty since 1985. His classes include class guitar, classical guitar, general music and guitar theory, and guitar ensemble.
Office: 230-E
Phone: (619) 644-7259
E-Mail: Fred.Benedetti@gcccd.edu OR fbenede1@san.rr.com
Fred Benedetti on YouTube
More information on Fred Benedetti, music links, and interests!
Dr. Randall Tweed, Theory III & IV
Randy has been conducting opera, symphony, and chorus throughout Southern and Baja California since joining the music faculty in 1986. Dr. Tweed has frequently appeared as guest conductor on concert music series throughout Southern California including the Cabrillo Chamber Orchestra, the United States International Orchestra, Spreckels Organ Society, and various educational and church music concert series. In the area of education Dr. Tweed has appeared as adjudicator for the Music Educator's National Conference, the Music Teacher's Association of California, the Grossmont Community Concert Association Instrumental Scholarship Auditions, and has twice appeared as conductor for the Suzuki awards concerts.

Dr. Tweed's performing experience is both in the areas of vocal and instrumental fields winning competitions sponsored by the La Jolla Civic University Orchestra and the Musical Merit Foundation of Greater San Diego. Dr. Tweed received the doctorate in musical arts (D.M.A.) from the School of Music at Arizona State University, located in Tempe, Arizona. He has also completed two Master of Music degrees from the University of Southern California in addition to pursuing post-graduate study in Berlin, Germany (studying at the Berliner Kirchenmusikschule) where he was a recipient of a Konrad Adenauer Foundation Fellowship.

In addition to expanding both the orchestral and choral programs at Grossmont College, Dr. Tweed initiated a series of concert programs dedicated to educating East County's children beginning in March of 1993 organizing a "musical petting zoo" for the children, under the supervision of the members of the Orchestra and Master Chorale, to "touch," "pet," and "play" the instruments of the orchestra just prior to hearing the actual concert. Aside from giving the members of the Grossmont Symphony Orchestra and Grossmont Master Chorale the experience of learning and performing an extensive variety of orchestral and choral literature, Dr. Tweed has given those members the opportunity to acquire greater stamina and self-assuredness by scheduling extra performances off campus. Being a civic minded person as well as an artist and educator, Dr. Tweed has contributed to the community by bringing his wonderful orchestra and chorale to areas that otherwise would have "missed out." In addition, he has succeeded in integrating community and college life by providing quality art to his East County audiences.
Dr. Tweed is has been a member of the Grossmont College Music Department Faculty since 1986. His classes include Music Theory, Music History, Performance Studies, Voice Class, in addition to the Grossmont Symphony Orchestra & Master Chorale.
Office: 230-D
Phone: (619) 644-7298
E-Mail: Randall.Tweed@gcccd.edu
Information for Dr. Tweed's GSO members.
Information for Dr. Tweed's Music Theory Students.
Information for Dr. Tweed's GMC members.
Bryan Verhoye, Theory III & IV
Bryan Verhoye is a concert pianist who trained at the USC School of Music, the Aspen Music School, and the Peabody Conservatory. He has won first-prize awards from the International Piano Recording Competition and the Carmel Music Society, as well as multiple awards from the Musical Merit Foundation of San Diego. His performance in Carmel of Stravinsky's "Three Movements From Petrouchka" was broadcast on National Public Radio's syndicated Performance Today program.
In addition to being featured numerous times with the San Diego Symphony in both classical and jazz settings, he has appeared every December since 2001 in the Carols By Candlelight concert alongside performers such as Kenny Loggins, America, The Little River Band, Stephen Bishop, Billy Ray Cyrus and Kim Carnes; he has also appeared in concert with Grammy-award winning violinist/composer Mark O'Connor.
Mr. Verhoye has appeared frequently as a solo recitalist, accompanist, and concerto and chamber music performer in San Diego and throughout the West Coast. He has performed for the educational outreach programs of the San Diego Chamber Orchestra, the La Jolla Music Society and the Mainly Mozart Festival.
Along with teaching piano, being a published composer and arranger, and being the accompanist for the San Diego Master Chorale since 1998, he is also Music Associate at Point Loma Community Presbyterian Church, and Adjunct Professor of Music at Grossmont College.
Office: Room 230-I
Phone: (619) 644-7254
E-mail: bryanverhoye@me.com
Manny Cepeda, Fundamentals
Manny hails from San Juan, Puerto Rico. His musical experience of over 48 years makes him a fountain of knowledge in the Latin Music genre. He has a Bachelors degree in music from Illinois State University, and a Masters Degree in Performance from Ellington University. He has performed professionally since the age of 7 years old when he was the leader of a 14-piece Salsa Band and performed in National TV for the Mid-day variety show in San Juan Puerto Rico's Channel 4. After his musical education in the Conservatory of Music Pablo Casals, in Puerto Rico, and finishing his musical degrees, Manny joined the US Navy Music Program in 1973. He has lead many Navy Band throughout the US and Overseas. He was the leader of the famous Navy Steel Band and the world traveled U.S. Navy Show Band. He toured the entire continent of South America and West Africa doing 7 world tours. He currently works as the Assistant Director for the CINCSOUTH Band and is also an arranger for many enterprises and bands in the US.
Art Walk 2004 Review
"One of the most promising artists with a background of rich music from the famous Bomba y Plena 'Cepeda' family of Puerto Rico is Manny Cepeda. Since the age of 7, Manny has been performing first as the "Timbales Player" in the acclaimed variety TV "Show de Vigoreaus" in San Juan, Puerto Rico's Channel 4, and with other famous bands such as "Babo Jimenez, Ricardo Ray, Willie Colon and others.

Manny's talents expanded further as his musical knowledge increased and has also developed into a superb composer and arranger. He is now bringing his collection of Salsa/Merengue music to the public and it's sure to be a hit with all the audiences. His energetic beat and the richness of his songs choruses make for this "Paloma Collection" an album to be remembered. Stay tuned for more of Manny Cepeda's music."

Robert Evans, Owner & Art Director, Little Italy Art Walk 2004

For more information on Manny Cepeda, please visit his website at: www.mannycepeda.com
Office: 230-A
Phone: (619) 644-7254
E-Mail: manny.cepeda@gcccd.edu