Covid-19
Covid-19 Testing done through Biocept Laboratory:
If you are a new user:
Name (First name, Last name)
Student ID number
Mobile number
Email
Please include above information and email to grossmont.health@gcccd.edu. We will send you a link to create your account.
If you do not have health insurance:
Write on a piece of paper the following sentence " I (full legal name and date of birth) attest that I do not have health insurance" then sign and date.
Take a photo of the statement and upload it instead of a health insurance card.
For existing user:
Please schedule your appointment through your personal link. If you cannot find the link please contact us at grossmont.health@gcccd.edu.
Effective 1.31.2022
Testing Schedule:
Monday: 9:00 am - 5.30 pm1:00 pm - 5:00 pm Wednesday:
Testing location:
Building 60
If you plan to test at an outside laboratory for Covid-19, please make sure the test you take is a PCR Test. Antigen testing is not acceptable as a substitution for Biocept Covid-19 PCR testing provided on campus.
After you receive the test results, please upload the test report to your Cleared 4 portal account.
No-Cost Covid-19 PCR test is available at San Diego County testing sites
Or call 211 for more information.
---
Fully Vaccinated Information:
According to the CDC, to be considered fully vaccinated is as follows:
In general, fully vaccinated for Covid-19, is two weeks, or 14-days after their second dose in a two-dose series, such as the Pfizer or Moderna vaccine.
With Johnson & Johnson's Janssen vaccine which is one dose, it is 14-days or two weeks after the single injection.
---
Covid-19 Daily Checklist
One of the most vital aspects of COVID-19 detection involves self-screening.
This Daily Self Checklist must be reviewed each day before reporting to class on Grossmont campus or Cuyamaca College campus.
STEPS:
Answer the checklist questions below:
Do you have a FEVER (a temperature above 100.0 °F)?
Do you have a COUGH?
Do you have SHORTNESS OF BREATH?
Do you have MUSCLE ACHES or CHILLS?
Do you have a SORE THROAT or HEADACHE?
Do you have LOSS of TASTE or SMELL?
Do you have NAUSEA, VOMITING, DIARRHEA, or LOSS OF APPETITE?
Have you, or anyone you have been in close contact with been DIAGNOSED with COVID-19, or placed on quarantine within the last 14 days?
Have you been asked to self-isolate or quarantine by a medical professional or local public health official?
If you answer YES to any of the question above, please email your instructor and/or the office you had an appointment with to reschedule. Let them know you are staying home due to having the identified symptom(s).
Contact the Grossmont College Health and Wellness Center via email to discuss with the campus Registered Nurse for further directions. Email grossmont.health@gcccd.edu

Include in your email your student ID# and a phone number. The campus Registered Nurse will provide you with further medical instructions including information on COVID-19 Testing or a referral to a Medical Provider.
Thank you for doing your part to keep our campus community safe and healthy!
---
Reporting Covid-19
When:Tested positive for COVID-19, exposed with someone who has COVID-19, have COVID-19 symptoms, or have concerns or questions
How: Please complete this form: COVID-19 Intake Form
or email to grossmont.health@gcccd.edu including your name, student ID number and phone number. Thank you.
Covid-19 Vaccine
Vaccine Information (CDC)
---
Where to get a vaccine (San Diego County sites)
San Diego County COVID-19 Vaccination Sites & Appointment
Additional Vaccination Sites
Search vaccine providers near you: https://vaccinefinder.org/search/
---
Possible Side Effects and Helpful Tips (CDC):
https://www.cdc.gov/coronavirus/2019-ncov/vaccines/expect/after.html
---
When you Have Been Fully Vaccinated (CDC):
https://www.cdc.gov/coronavirus/2019-ncov/vaccines/fully-vaccinated.html
---
Covid-19 Testing
No-Cost Covid-19 PCR test is available at San Diego County testing sites
Or call 2-1-1 for more information.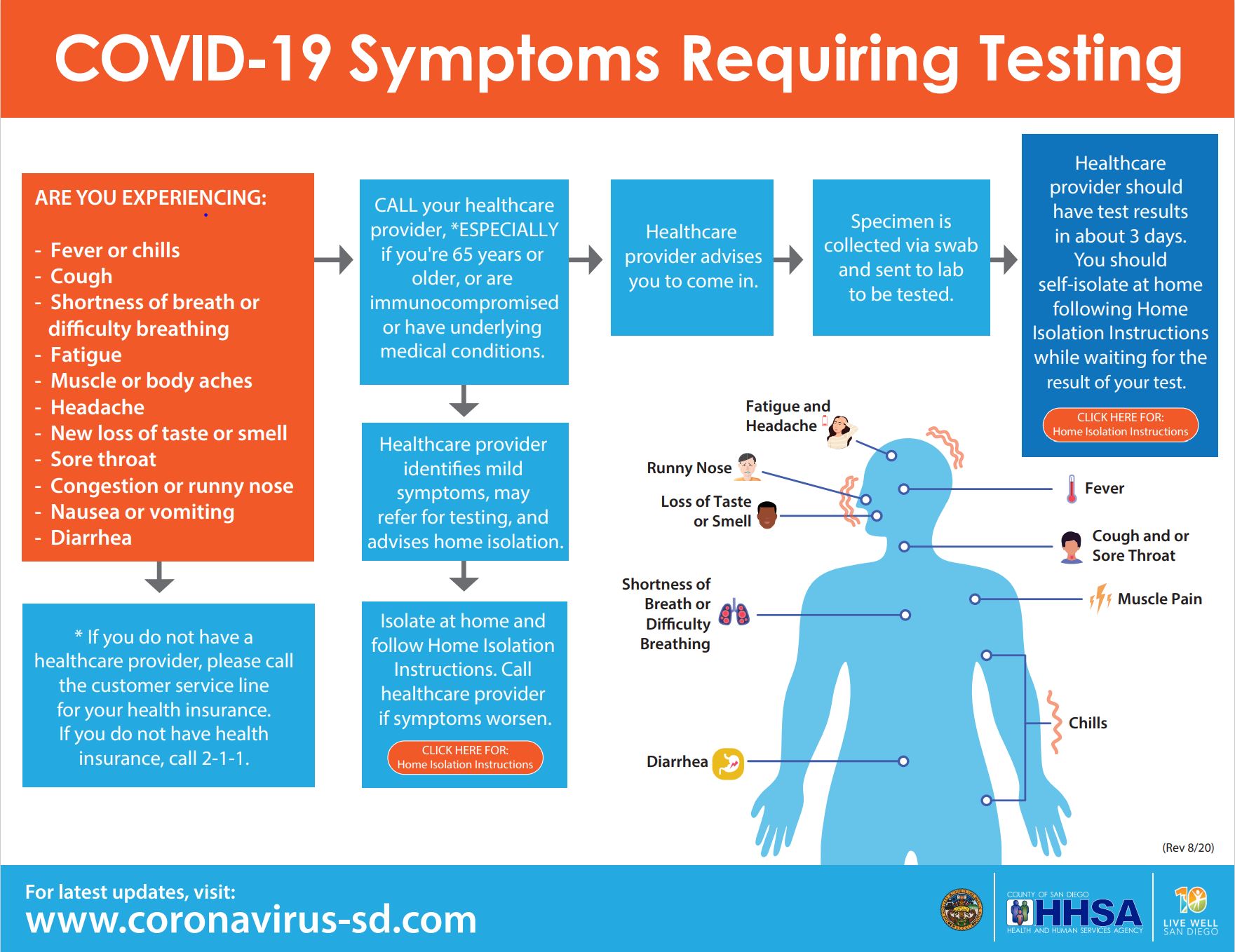 Home Isolation and Quarantine Guide
Temporary Lodging Program (Spanish) (Arabic)
---
What To Do ( Center for Disease Control and Prevention)
How to protect yourself and others
Caring for Someone Sick at Home
---
Other Helpful Resources
San Diego County Coronavirus Disease 2019
California Department of Public Health (CDPH)
World Health Organization Coronavirus Disease 2019 (WHO)
California Community Colleges Health & Wellness