Covid-19
Important: The vaccine mandate has been lifted. Covid-19 vaccines are no longer required to enroll. Face coverings are no longer required, they may be highly recommended in certain departments and offices.
---
Testing
Rapid Antigen tests are available in the Health & Wellness Office - Building 60, Room130
---
Covid-19 Daily Checklist
One of the most vital aspects of COVID-19 detection involves self-screening.
This Daily Self Checklist must be reviewed each day before reporting to class on Grossmont campus or Cuyamaca College campus.
STEPS:
Answer the checklist questions below:
Do you have a FEVER (a temperature above 100.0 °F)?
Do you have a COUGH?
Do you have SHORTNESS OF BREATH?
Do you have MUSCLE ACHES or CHILLS?
Do you have a SORE THROAT or HEADACHE?
Do you have LOSS of TASTE or SMELL?
Do you have NAUSEA, VOMITING, DIARRHEA, or LOSS OF APPETITE?
Have you, or anyone you have been in close contact with been DIAGNOSED with COVID-19, or placed on quarantine within the last 14 days?
Have you been asked to self-isolate or quarantine by a medical professional or local public health official?
If you answer YES to any of the question above, please email your instructor and/or the office you had an appointment with to reschedule. Let them know you are staying home due to having the identified symptom(s).
Contact the Grossmont College Health and Wellness Center via email to discuss with the campus Registered Nurse for further directions. Email grossmont.health@gcccd.edu

Include in your email your student ID# and a phone number. The campus Registered Nurse will provide you with further medical instructions including information on COVID-19 Testing or a referral to a Medical Provider.
---
Reporting Covid-19
Please complete this form: COVID-19 Intake Form or email to grossmont.health@gcccd.edu including your name, student ID number and phone number.
Questions or Concerns: (619) 644-7192 or grossmont.health@gcccd.edu
---
Covid-19 Vaccine
Vaccine Information (CDC)
---
Where to get a vaccine (San Diego County sites)
San Diego County COVID-19 Vaccination Sites & Appointment
Additional Vaccination Sites
Search vaccine providers near you: https://vaccinefinder.org/search/
---
Possible Side Effects and Helpful Tips (CDC):
https://www.cdc.gov/coronavirus/2019-ncov/vaccines/expect/after.html
---
Covid-19 Testing
No-Cost Covid-19 PCR test is available at San Diego County testing sites
Or call 2-1-1 for more information.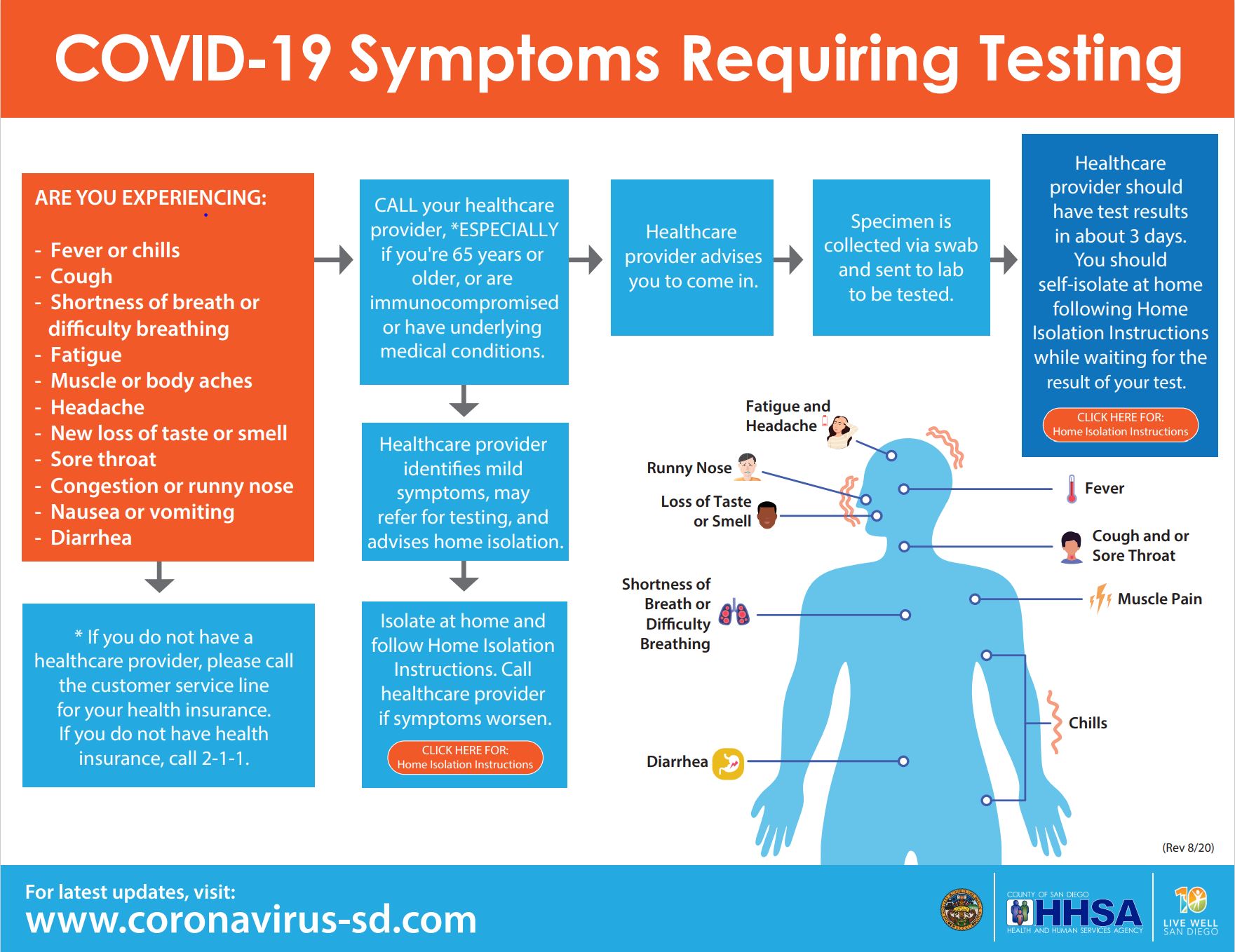 Home Isolation and Quarantine Guide
Temporary Lodging Program (Spanish) (Arabic)
---
Helpful Resources
San Diego County Coronavirus Disease 2019
California Department of Public Health (CDPH)
World Health Organization Coronavirus Disease 2019 (WHO)
California Community Colleges Health & Wellness