Menu
Karstens makes MLB debut with Yankees
(8/22) Former Grossmont College star Jeff Karstens (Mt. Miguel High) made his Major League debut Monday, starting for the New York Yankees in Seattle against the Mariners. The 6-3 righty out of Texas Tech was solid in his start, but the Yankee bullpen couldn't hold the 5-3 lead he entrusted to them. The rookie's line for the night was very respectable: 5 2/3 IP, 6 hits, 3 runs, 3 ER's, 2 BB, 2 HR allowed.
The Yankees had considered using the 23-year-old in the Boston series, but manager Joe Torre decided against throwing a rookie into the fire of a Red Sox-Yankees game.
Karstens played at Grossmont from 2001-2002 and compiled a 16-4 record with a 2.45 ERA before transferring to Texas Tech.
Read more on EastCountySports.com
---
Barger taken by Cleveland
(6/7) Grossmont slugger Zach Barger was selected in the 45th round of Wednesday's Major League Baseball Draft by the Cleveland Indians. Barger originally went to Long Beach State out of Valhalla High School, before transferring to Grossmont.
Though taken towards the end of the draft, Barger signed for amounts usually reserved for upper-round selections, showing that he was far too talented to be taken that late.
Hitting in the two-hole for much of the season Barger was second on the team in runs scored (40), third in hits (62), while batting .354 with six homers and 40 RBIs.
More draft coverage EastCountySports.com

---
Baseball banquet honors 2006 squad
(6/6) The Grossmont baseball team held its year-end banquet Tuesday June 6th on the diamond at Noel Mickelson Field. The Griffins celebrated their successful '06 campaign in which the team won 30 games and reached the Super-Regional round of the state playoffs, a first for a Grossmont baseball team.

Most of the players were on hand to receive awards and enjoy a catered Italian lunch. To no one's surprise future Anaheim Angel Sean O'Sullivan received several awards including Most Valuable Player. Noel Mickelson field was all decked out complete with a manicured, chalked infield for the attendees to enjoy. The visitors dugout served as the serving area for the lunch. Parents, coaches and supporters enjoyed the afternoon. Also on hand were members of the athletics department including Athletic Director Jim Spillers who thanked the team for a memorable season and told the players they are always welcome back at Grossmont.

Also honored was Josh Mazzola who received the Bronze Glove for his great work at the hot-corner. Starters John Lowe (Pt. Loma Nazarene) and Shane Kaufman (SDSU) were named Co-Pitchers of the Year, and both will play at four-year universities next season. Brandon Haley received the fabled Bonophone Award for his ability to chatter above all of his teammates in the dugout. First-baseman Nick Cooper was honored as Most Inspirational.

Sean O'Sullivan signed with the Angels on Memorial Day.
Photo by Travis Downs
---
O'Sullivan Signs with Angels
(5/30) Grossmont's Sean O'Sullivan signed yesterday with the Los Angeles Angels of Anaheim. Drafted by the Angels in the third round of last year's amateur draft, O'Sullivan chose to attend Grossmont College in order to up his stock as a professional prospect. O'Sullivan was also named first team All-State, and All-American.
Read more on EastCountySports.com
Read more on SignonSanDiego.com
O'Sullivan featured on MLB.com
Grossmont's Sean O'Sullivan is the focus of an article on MLB.com previewing the June draft. Read it here.
---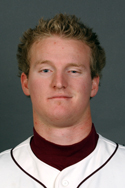 Clay Coulter
Former Griffin Coulter earns honor
(5/30) Clay Coulter, Grossmont's catcher last season earned an All-Missouri Valley Conference Tournament selection playing for Missouri State University. The junior from West Hills went 9-for-22 (.409) with two homers and eight RBIs in five MVC Tournament games.
Read more on EastCountySports.com
---
Cypress eliminates Grossmont
(5/20) The Griffins fell to Cypress 9-2 ending their season Saturday afternoon at Cypress College. It was the second loss to #1 Cypress in as many days.
Read more on EastCountySports.com
---
Grossmont knocks off Bakersfield
(5/20) Grossmont College kept its season alive by defeating Bakersfield 14-6 Saturday morning. Grossmont (30-17) will now face Cypress (38-10) again at 3pm. The winner of this afternoons game will play Sunday morning at 10am.
---
Griffins fall to Cypress
(5/19) Grossmont fell to #1 Cypress College Friday 6-1 in the opening game of the double-elimination Super Regionals at Cypress. On Saturday (5/20) Grossmont will face #5 Bakersfield at 10am.
---
Griffins win two to advance
(5/14) After dropping game one of their playoff series at Cuesta, Grossmont rallied to win two games Sunday and advance to next weekends
Super-Regionals. Grossmont won game one 6-3, and game two 8-2. SDSU-bound Shane Kaufman started game one, and Pt. Loma Nazarene-bound John Lowe got the call in the decisive third game.
Note: Grossmont will now play in this weekend's Super-Regionals at #1 Cypess College. Grossmont will compete in the double elimination weekend against Cypress, #5 Santa Ana, and #7 Bakersfield. Cypress is located at 9200 Valley View St., Cypress CA, 90630.
Read more on EastCountySports.com

---
Griffs drop series opener 5-8
(5/13) Grossmont got off to a great start at Cuesta Saturday, but the Cougars registered an 8-5 comeback victory.
Sean O'Sullivan threw six innings, allowing eight hits and four earned runs. Grossmont used a Kyle Mirvis home run in a three-run first inning, but the Cougars responded with two runs in their half of the first. O'Sullivan went 3-for-4 at the plate.
Trailing 4-2, the Cougars rallied for two runs in the sixth to tie the score, then posted four runs in the seventh to take the lead.
Left fielder Garrett Lingle went 2-for-3 with a pair of RBIs.
Cuesta now leads the series 1-0 with game two today at 11am, if the Griffins, who will start Shane Kaufman, can win they will force a decisive game three immediately following game two.
---
Griffs open playoffs on the road
Full Playoff schedule, click here
(5/7) Grossmont College, seeded No. 13 in the Southern California region, will open the 2006 COA playoffs with a best-of-three game series against No. 3 Cuesta College. The first game is Saturday May 13th (1pm) and continues on Sunday the 14th (11am), with a decisive third game, if necessary, to immediately follow. Cuesta, located in San Luis Obispo, tied with Ventura for the Western State North Conference championship. The Cougars finished the season with a record of 31-12-1, 17-8.
---
All-PCC Teams announced
Grossmont's Sean O'Sullivan was named PCC Player of the Year by the league's coaches as the All-PCC teams were announced. The freshman pitcher/DH led the conference in batting with a .405 average to go along with his seven homers and 39 RBIs. He was second in the league in pitching, posting a 1.87 ERA with a 7-3 record. Four other Griffins made the first-team, check out the entire team here.
---